Pro's Choice Dambuster Deicer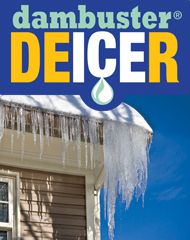 The Best Tested Solution for Winter Ice Damage Is Dambuster Deicer!
When snow and ice melts and refreezes...Dambuster Deicer bricks provide a cost-effective, simple solution to
roof
ice damage!
Placed before heavy snowfall or severe freezing winter weather, it prevents roof drains and gutters from refreezing, which causes ice dams.

4-lb brick is easy to handle and install.

Protects roofs all winter long (reapplication may be necessary depending upon weather conditions).

Patented, unique, earth-friendly formulation won't damage roof metals, roofing materials, or vegetation.

Made in the USA.

Bricks are for flat and shingled roofs with low to medium slopes.
Installation Instructions
Install just before heavy snowfall or severe freezing winter weather.
Sloped Roofs Less Than 10/12 Pitch Installation Instructions
Place bricks as shown in the illustration, three to four rows above the gutter. If bricks slide when released, the roof is too steep for proper installation. Bricks cannot be installed onto roofs with a pitch steeper/greater than 10/12 pitch. Install 4-8 ft apart. In areas of persistent or heavy snowfall, place bricks 2-3 ft apart. Bricks placed in gutters will aid in water flow but will not prevent ice dams. Replace as needed. White coloring beneath brick is dried brine. It will wash away as soon as brick is removed or dissolved.
Flat Roof Installation Instructions
For very small roofs with minimal drainage, place one to two bricks about 1 ft from the drain. Larger roofs require stacked pairs of bricks to effectively deice larger amounts of water. Place about 1 ft from the drain or scupper opening in the area where water flows. Replace bricks as needed.
For all special or unusual applications, please contact us at
cs@gpsincusa.com
.
This product is designed for preventing ice dams. It should not be used for any other purpose, such as animal nutrition supplements, deer baits, or food seasonings. Please install safely before snow covers your roof.
INSTALLERS TAKE NOTICE:
This product contains some salt. Salted water can conduct electricity. Do not install holiday lights or electrical items in the downhill pathway of the water that passes below the Dambuster as a short circuit can occur. Heavy or persistent rainfall will dissolve the brick.
ACTIVE DEICING INGREDIENTS:
Sodium Chloride, Sodium Acetate
Protected by U.S. Patents:
6282846B1 and 6484453B2
Do I put the bricks on the roof once per winter season, or does it depend on snow accumulations?
The number of applications necessary depends upon snow accumulation. Reapplication may be necessary. A brick should last at least through 1 ft of melting snow.
When should the bricks be installed?
Install the bricks just before the first real snowstorm hits for best usage of the Dambuster's deicing abilities. Too soon, and rain may wash away some or all of the Dambuster. Don't place if dustings or flurries of snow are predicted as these small amounts of early snow usually don't last long enough to cause ice dams. Hold out until the first real snowfall of the new year to get the maximum deicing ability out of your Dambusters. Any unused Dambusters can be saved for next winter or longer if they are stored in a dry place.
Can the product harm the roof accessories, plants, or animals?
Dambusters are made of edible salts, coarse and fine sodium chloride, sodium acetate, and a blend of natural, non-toxic mineral and natural oils and wax to extend the life of the product on the roof. It is not harmful to plants, animals, or roofing accessories because they do not melt quickly and saturate the melted water with salts. The melting process of Dambusters begins at about 25 degrees F. We only want to prevent the already melted water that is flowing down the roof surface to not refreeze as it enters the unheated drain box and spout. This process requires much less salt than deicing a driveway or walk and therefore has far less of an effect on the roof and other contact areas.
In what quantity are the bricks sold?
The bricks are sold six bricks per carton.
What is the weight of a carton?
Each carton weighs 24 lbs; each brick weighs 4 lbs.
Where can the bricks be purchased?
If you provide us with your location, we will locate a retailer for you. Contact us at

cs@gpsincusa.com

.
I have a row house and have had a lot of trouble with icing on the roof near the downspout. How many bricks will I need for an average winter to keep that corner of my roof thawed out?
The amount of bricks depends on how much sq ft of the roof feeds into the downspout and how much snow falls onto it. If the size is below 200 sq ft, place the bricks in pairs, one stacked above the other, and replace them as needed. Main roofs average 700 sq ft and up and will require a full six-pack with the bricks stacked in pairs, three layers high, 6-12 in from the drain box opening. Most of our recent winters have had respectable amounts of snow, and a spare six-pack or two may be needed for reapplication.